Just ask astronaut Jim Lovell. When he climbed aboard the Apollo 13, headed for the moon, he never guessed a watch would help save his life. That star-crossed mission nearly killed Lovell and his two crew members when a string of equipment failures crippled his spacecraft. Lovell used his Omega Speedmaster to time the crucial engine burns that propelled the heroic threesome safely back to earth. Luckily for all, his watch was in good working order; shouldn't yours be too!!
Your Swiss watch is a mechanical masterpiece designed to give you more than a lifetime of use. However, the performance of this complex mechanism can not live up to its full capabilities without proper and periodic maintenance.
Fine Swiss watches are sophisticated precision instruments. For maximum efficiency, and to prevent damage, they need regular checkups. Most manufacturers suggest that the interval between cleaning, lubricating, timing, and resealing for both mechanical/self-winding and quartz/analog watches should not exceed 3 to 5 years. The longer proper maintenance is deferred the greater the potential for damage and the more expensive the restoration. Don't wait. Treat your watch to Capetown's experienced technicians and our time tested 26-point reconditioning procedure.
Important Note: A mechanical watch's performance is truly remarkable. It registers 604,800 seconds every week. In addition, the balance wheel rim travels the equivalent of 14,000 miles over a three year period. That's more than half way around the world on one oil change!
You may be asking yourself, "If it isn't broken, why fix it?" There are some very good reasons why. First, the oil that keeps your watch running smoothly (and is just as important to it as oil is to your car's engine) will break down over time. Unlubricated watch parts can be abraded by friction. The problem can get even worse. Friction can create a fine dust that will in itself act as an abrasive. Additionally watches "breathe" -they expand and contract in response to hot and cold, allowing dust-carrying air to enter the case through microscopially fine cracks. This is true even of water-resistant watches, whose case-back and crown openings are protected by gaskets, which if not periodically replaced lose their effectiveness. This lack of lubrication combined with the entrance of airborne soil greatly increases the premature wearing of parts which can be quite costly to replace. This insidious process isn't evident until something goes wrong.
Most consumers are under the impression that their expensive timepiece is waterproof. This is not true! Using the term waterproof in describing watches sold in the United States is not an acceptable term according to the Federal Trade Commission Guidelines. Approved terminology such as, water-resistant, pressure-proof and the like, merely warrant that if during the length of the warranty period the watch case leaks, through no fault of the consumer, the manufacturer will either repair the damage or replace the watch. Most manufacturer's warranties only cover this moisture damage provision for one year. Thereafter, you are on your own.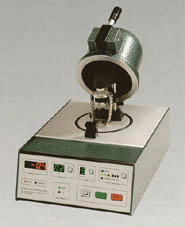 Scheduled maintenance is your major protection against costly moisture damage. Other than human error, the majority of watches so affected are the direct result of poor maintenance. Since most internal parts are susceptible to rust and oxidation, the seepage of chlorinated or ocean water, excessive perspiration, or sustained exposure to humid climatic conditions will cause severe and expensive damage. A hairline crack in the crystal as well as aged gaskets or those damaged by an inept battery change can all compromise your timepiece. The longer these conditions go without remedy the greater the chance that you will have to replace the entire movement. As a final step to all repairs at Capetown, Capetown's technicians pressure test all water resistant watches with the most modern equipment available.
Important: If you are determined to use your watch in or about water, you should, for your piece of mind, have our specialist service and pressure test your watch more frequently than recommended.
The last decade has brought about significant change to the centuries' old profession of watchmaking. The immense popularity of the digital quartz movement, concurrent with the minimal skills required to service them, have decimated the ranks of the career horologist. Once there were over a hundred thousand proficient watchmakers in America. Currently there may be less than one thousand of these highly trained and very specialized technicians.
More often than not, today's "watchmakers" skills barely extend beyond battery changes and movement replacement. Most are ill equipped to properly execute the arcane service requirements of upscale Swiss timepieces. Our once grand industry is now rife with shoddy workmanship, excessive delays, endless "do-overs", and exorbitant prices. Consequently, it would be most ill-advised to trust your expensive watch to just anyone. Capetown's elite staff of dedicated professionals and our forty year reputation of excellence is your assurance of quality workmanship. We guarantee it!!